Air filter
Air filter easy to remove, made of a metal frame holding filtering section. Can be regenerated by water wash, blowing, suction.
Standard: Filtering media made of acrylic polyester fabric, being resin treated, highly efficient. Superlative against Powders and Pollens.
Class M1; Filtering level EU3 (EUROVENT 4/5).
Main casing
Main casing (Bearing structure) made of extremely thick steel-sheet, resistant to rust, corrosion, chemical agents, solvents, aliphatics and alcohols.
Self-supporting and removable panels provided with holes (buttonholes) for ceiling/wall mounting directly through the main casing.
Pre-cuts slots and prearranged holes to configure the unit on request, to install the accessories, to output for the water connections on the left or right, to reverse the unit even on-site.
Assembled with self-threading screws for fast, total and easy check/maintenance. Reduced sizes, optimised volumes.
Available in a very large range of horizontal and vertical versions.
Available main casings:
Z : Single skin panel made of galvanized steel + internal thermal-acoustic insulation (class M1) of all parts in contact with the coil for all CS/CA models.
P : Single skin panel made of pre-painted steel white RAL9002 colour + internal thermo-acoustic insulation (class M1) of the parts in contact with the coil for VA/HA models.
Electrical Equipment
The standard unit is supplied equipped only with the motor cable (without control panel) terminal.
In this way, the client can choose among a large range of control panels "CB"-"CBE" and terminal boards "MRS" (available as accessories), which are supplied mounted or loose on the unit (standard on opposite to water connection side).
FX Drain Pan – Bearing Structure
Drain pan provided with condensation drain and thermal insulation (class M1).
Only for vertical versions: Condensation Drain Funnel with  20 mm pipe, realised in plastic material (standard supplied in the same side of the water connections) terminating externally to the unit side, for an easy and fast connection to the condensation drain pipe.
Bearing structure made of extremely thick galvanized steel-sheet with holes (buttonholes) for ceiling/wall mounting directly through the structure + Internal thermal-acoustic insulation (class M1).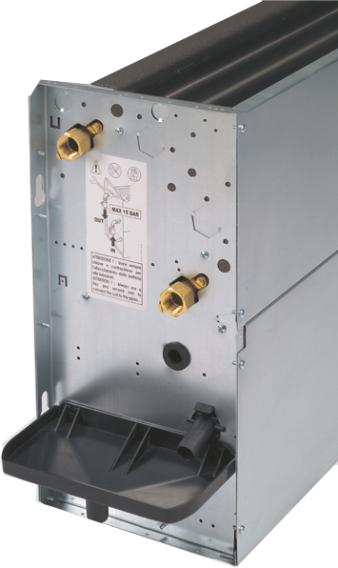 FX  Heat Exchanger
Standard Unit with Water Coil
Highly efficient coil (Turbolenced Fins with a high number of Reynolds) made of copper pipes and aluminium fins fixed by mechanical expansion.
Coil connections provided with anti-torsion system, manual air vent valves, manual water drain valves. Standard connections on the left side; on request (no additional charge) connections on the right side, anyway can be easily reversed even on working site.
1 coil for a 2-pipe system; 2 coils for a 4-pipe system.
Coils tested at 30 Bar pressure, suitable to work with water at max 15 Bar pressure.
Coils designed to work with hot water (boiler), low temperature hot water (condense boiler, solar energy system, hot water pump, etc.), high temperature hot water (industrial processes and/or high temperature boiler), chilled water (chillers and/or industrial processes), water added with glycol.
FX  FCU Cabinet Description
(PRE-PAINTED STEEL + ABS ADJUSTABLE LOUVERS)
(Only for versions VA – HA)
Beautiful, modern styled cabinet well proportioned smoothed outline to perfectly match with any interior. Standard white colour (similar to RAL 9010), or any other RAL colour on request (additional charge). Made of thick steel-sheet, galvanized and finished by a polyvinyl chloride film, to make it resistant to rust, corrosion, chemical agents, solvents, aliphatic and alcohols. Top film about 10 times thicker than standard one treated by epoxy powder (for extra resistance to scratch). Thermo acoustic internal insulation (class M1). Well-balanced proportions, just 220 mm thick.
Air delivery grill is in white ABS (similar to RAL 9002, slightly in contrast with the cabinet white colour) with sliding side doors to easily access to the internal control panel (option).
The double bank grill's louvers can be easily singularly manually adjusted, allowing to have air-flow in Any Wished Direction (front, back, right, left, uni-directional, bi-directional, opposite-position, etc…):
Louvers adjusted in opposite position will increase the Induction Effect
Some Louvers closed will increase the air-flow speed increasing the Air Throw
Adjusting the air-flow tangentially to the ceiling/wall will increase the Coanda Effect
All Louvers closed when the unit is not in use, will Avoid the Dust and Dirtiness to get in.