Compact, Reliable and Easy to Use
Simply power on and Optidrive E3 is up and running, providing precise motor control and energy savings using the factory settings.

Sensorless Vector Control for all Motor Types
Precise and reliable control for IE2, IE3 & IE4 motors.
Induction Motors (IM)
Permanent Magnet Motors (PM)
Brushless DC Motors (BLDC)
Synchronous Reluctance Motors (SynRM)

Simple Commissioning
14 parameter basic setup. Default settings suitable for most applications. Contactor style connection for simple wiring.
Intuitive Keypad Control
Precise digital control at the touch of a button.

Application Macros
Switch between Industrial, Pump & Fan modes to optimise Optidrive E3 for your application.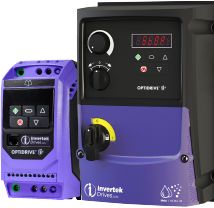 Internal Category C1 EMC Filter
An internal filter in every Optidrive E3 saves cost and time for installation.
Cat C1 according to EN61800-3:2004
Application Macros
Switch modes at the touch of a button to
optimise Optidrive E3 for your application
Industrial Mode

Industrial mode optimises Optidrive E3 for load characteristics of typical industrial applications.

Applications include:

Conveyors
Mixers
Treadmills

Pump Mode

Pump mode makes energy efficient pump control easier than ever.

Applications include:

Dosing Pumps
Borehole Pumps
Transfer Pumps
Swimming Pools
Spas
Fountains

Fan Mode

Fan mode (inc. fire operation) makes air handling a breeze, ideal for simple HVAC systems.

Applications include:

Air Handling Units
Ventilation Fans
Circulating Fans
Air Curtains
Kitchen Extract